Solzaima's vision has always been to provide a clean, renewable and more costeffective energy. This is why we've been dedicating ourselves for more than 39 years to the manufacture of biomass heating equipment and solutions.
As a result of the persistence and unconditional support from our partner network, Solzaima is today a leading player in the production of biomass heating solutions, best illustrated by our backboiler fires for central heating.
We provide annually more than 20.000 homes with biomass heating solutions. The consumer's increasing awareness towards ecological and more cost-effective heating solutions accounts for this market's dramatic growth.
Solzaima has an ISO 9001 quality certification and an ISO 14001 environmental certification – we believe we are a role model in this respect.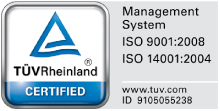 Please take a look at our catalogue and find the best solution for your home.