SOLZAIMA'S COMMITMENT
Solzaima is a leading player in the production of biomass heating equipment. We have been manufacturing equipment for renewable energy sources since 1978.
WARRANTY
Solzaima offers a warranty period of two years for increased security and peace of mind
QUALITY AND CERTIFICATION
Solzaima's entire product range stands out by the accuracy and quality in the choice of raw materials, control of the production process and treatment of all residues thereof. All this to ensure your home is fitted with solid and reliable equipment. Solzaima has an ISO 14001 environmental certification and an ISO 9001 quality certification. We regard ourselves as a role model in this respect.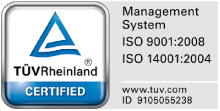 TYPE-APPROVAL
All our equipment is tested and granted approval, in accordance with EC standards, by independent laboratories to ensure compliance with EC Directives for this type of equipment.
SOLZAIMA'S COMMITMENT SUSTAINABILITY
Solzaima has a deep concern with ensuring the Sustainability of our Planet. Our commitment is towards an ongoing improvement of our equipment. Our engineering and development team uses the latest fluid and combustion emulation software for minimizing CO emissions and improving our equipment's efficiency. This will help you save on firewood consumption while protecting the environment.
EQUIPMENT CLASSIFICACION
EFFICIENCY CLASSES AND EFFICIENCY RATE
As a result of Solzaima's commitment towards the equipment's efficiency, most of our products are classified as efficiency class 1, i.e., with an efficiency rate equal to or greater than 70%.
A 70%-efficiency rate means that 70% of the energy contained in the firewood is used to warm your home or, in other words, you are able to produce the same amount of energy with much less firewood.
A Solzaima 5kW fire with an efficiency rate of 75%, i.e. efficiency class 1, will consume approximately 3.5 pounds (1.6kg) of firewood per hour to warm a 389 sq ft room (35m2).
Typically, a traditional fireplace has an efficiency rate of approximately 10%, which means it will consume about 26.5 pounds (12kg) of firewood to produce the same 5kW necessary to warm the same 389 sq ft room (35m2).
FIREWOOD CONSUMED IN ONE HOUR TO WARM
≈ 389 SQ FT (35 M2) WITH A 5kWEQUIPMENT
A traditional fireplace with an efficiency rate of 10% consumes 26.5 pounds (12kg) of firewood.
A fireplace equipped with a simple fire (class 4) and providing an efficiency rate of 30% consumes 8.8 pounds (4kg) of firewood.
A fire with an efficiency rate of 50% (class 3) consumes 5.3 pounds (2.4kg) of firewood.
A Solzaima fire with an efficiency rate of 75% (class 1) consumes only 3.5 pounds (1.6kg) of firewood.
POWER
The power shows the heating capacity of your equipment, i.e. the firewood heat transfer delivered to your home (usually in kW) and depends directly on the amount of firewood that is placed in the equipment.
The rated output is the measure of a standard load of firewood when tested in laboratories during a certain amount of time.
The power output is a manufacturer's recommendation from tests to the equipment with firewood loads within a reasonable operation range. This power output range will present different firewood consumptions per hour.
CO2 AND CO EMISSIONS
CO2 emissions (carbon dioxide) from a fire are environmentally neutral since the amount of CO2 released from firewood is similar when burned or decaying in the forest.
CO emissions (carbon monoxide) depend on the combustion efficiency of the fires, i.e., the more efficient a fire is and the better its combustion process is, the less its chemical loss - CO - the result being a more environmentally efficient equipment.
Solzaima strives for constant improvement of our equipment features. The equipment produced by our engineering team is very different from that of 30 years ago and particularly different from a traditional fireplace.